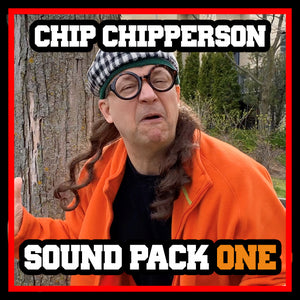 Ringtones Package One
An Official Ringtone and Sounds package from ChipChipperson.com.  Use these for notifications and what-not so you can always be near the Chippah.  This package includes the following:
Full Soundboard file list (33 MP3 files)
And also includes the following MP3s not found in other packages.
Chip - Hey Sock Cucka RINGTONE
Chip – We Regaled Each Other RINGTONE
Chip – Go'on Now, Pick Up The Phone RINGTONE
Cregg – Crooked Little Pictures RINGTONE
Edgar – Aprell Fhalls! RINGTONE
Uncle Paul – Shootely Doo-De-Doo RINGTONE
Kirk – It's Probably Good News! RINGTONE
Uncle Paul – Someone Got An Email EMAIL NOTIFICATION
 Chip – The Devil Called VOICEMAIL NOTIFICATION
 Edgar – Fahn Call From Edgar VOICEMAIL NOTIFICATION
 Chip – Evil Mail Alert – EMAIL NOTIFICATION
 Uncle Paul – Check Your Text Messages TEXT NOTIFICATION
 Cregg – Texting Texting TEXT NOTIFICATION
 Edgar – Rude And Insulting ALARM
 Uncle Paul – You're Gonna Get Me In Trouble ALARM
NOTE: These files are provided in MP3 format and may need to be converted for use with your device (iPhone, PC).   IF YOU DO NOT KNOW HOW TO CONVERT OR MAKE THESE COMPATIBLE WITH YOUR DEVICE, DO NOT PURCHASE.  IF YOU ARE ON THE FENCE, DOWNLOAD ANOTHER MP3 FROM THE INTERNET AND TEST YOUR CONVERSION OR USABILITY BEFORE PURCHASING.
We do not provide technical support for this and will not issue a refund on these items.  YOU ARE ONLY ALLOWED TWO DOWNLOAD ATTEMPTS FOR THESE FILES.  BE SURE TO DOWNLOAD IT TO A LOCATION YOU CAN ACCESS.
Suggested Apple Support LINK 1 and LINK 2.
Search 'custom ringtone setup' or 'convert mp3 to wav' for PC users.